A couple of decades ago, the best restaurants in Madrid were the kind of white-tablecloth institutions that carved whole turbots tableside and decanted back-vintage Riojas with old-world panache. Those timeless stalwarts are still alive and kicking—we're looking at you, Sylkar and Casa Hortensia—but there's a culinary revolution underfoot in Madrid that's turned the traditional criteria squarely on their head. Recent waves of immigration (notably from Latin America, Africa, and China) and internationally trained chefs have imbued the local food scene with novel ingredients and cooking techniques. Take, for instance, La Tasquería, a nueva cocina spot specializing in offal: No Madrileño could've predicted that a restaurant with stewed tripe and fried pig face on the menu would bag a Michelin star and go on to become one of the city's most sought-after reservations. From envelope-pushing gastro-meccas to cobwebbed tabernas, Chinese hotpot restaurants to Asturian cider halls, Madrid is an ever-expanding patchwork quilt of cuisines and cultures waiting to be gobbled up. We hope our editor's picks of Madrid's best restaurants helps you decide where to start.
Restaurante Sacha
Sacha, a twinkly candlelit bistro blissfully removed from the busy center, is the ultimate date-night spot with dim lighting, white tablecloths, and a comfy bottle-lined dining room. At first glance, the menu seems simple—early-spring options might include cardoons with salt cod, lamb chops with garlic shoots, or, plainly, lentils. But don't be fooled: The execution is consistently flawless. Don't miss house specialties like the decadent faux lasagna layered with uni. Strike up a conversation with Sacha, the larger-than-life owner, and you might never leave. He and his staff make you feel like you're at an intimate dinner party among friends.
Café Comercial
If these walls could talk, they might recite a few verses from "Fields of Castile" by Antonio Machado, the Generation of '98 genius who—like many in Madrid's turn-of-the-century intelligentsia—was a regular at Café Comercial, an 1887 literary café that hosted readings, salons, political debates, and more. A dramatic 2016 facelift preserved some Art Deco bones of the original interiors (mirrored walls, wooden columns, and curved bar) and added high-design fixtures like Gubi chandeliers and Dante folding screens. Paella in Madrid is usually (gasp) a sad, soggy affair—a poor imitation of the saffron-scented, crunchy-bottomed original from the Valencian coast. But Café Comercial's arroz meloso—soupy rice brimming with tender squid and meaty prawns—is a glimmering approximation to the real deal. It's a must, as are the ultra-creamy croqueta, flecked with Iberian ham and enlivened by fresh thyme.
Hortensio
For those who travel to eat, there may be no better investment than Hortensio, a Chamberí neighborhood gem, which the Michelin Guide inspectors—if they're worth their salt—are no doubt watching closely. Don't be fooled by the restaurant's exposed-brick walls and somewhat bland aesthetic: Behind the swinging door, Mario Valles' highly technical kitchen tweezes and froths some of the city's finest alta cocina dishes into existence. The menu embodies Madrid's culinary zeitgeist: fresh and international yet traditional at its core. Looking at the delicate plating of dishes like rouget in a pool of lobster bisque or squab with ultra-concentrated mole and Périgord truffles, you'd never guess that Valles was once an Olympic judo wrestler. For those who travel to eat, there may be no better investment.
El Cisne Azul
Ask local food writers and chefs where to try the city's best wild mushrooms, and they'll invariably point you to El Cisne Azul, an unsuspecting hole-in-the-wall in Chueca. A mycologist's paradise, the restaurant sources prime seasonal mushrooms, from crinkly morels to mustard-yellow chanterelles to toadstool-like amanitas. Try them a la plancha, anointed with nothing more than olive oil and a flick of crunchy salt, or folded into scrambled eggs. Goat cheese and foie gras are optional—and arguably life-changing—add-ons. A selection of cheeses and simple grilled meats rounds out the menu.
Celso y Manolo
In a district under siege by mediocre brand-name restaurants and salad and poké-bowl franchises, Celso y Manolo is a family-owned diamond in the rough that's redefining the neighborhood bar for the 21st century. Expertly purveyed vegetables, meats, and fish are the cornerstone of the varied menu in Chueca, which is printed on oversize paper to resemble a broadsheet. The tomato tasting, with four tomato types and four olive oils, is an experiment we can get behind; follow it with a grilled organic steak from Cantabria or a bowl of country-style rice "with a little bit of everything."
Dos Cielos Madrid by Hermanos Torres
wash with creams, taupes, and earth tones, Dos Cielos' subdued décor belies an ambitious Spanish-fusion menu with punchy, concentrated flavors that'll make you ooh and aah. Sure, it's technically a hotel restaurant, enveloped by the Gran Meliá Palacio de los Duques, but with the Michelin-starred Torres brothers calling the shots, it's anything but safe or bland. Most dishes in the eight-course tasting are vegetable- and seafood-centric; depending on what's in season, you might be treated to delicate peas in Iberian ham broth, king crab dumplings, or oven-roasted John Dory.
Sala de Despiece
Meat hooks, styrofoam butcher containers, and black-and-yellow barricade tape define the décor, which could be summed up as high-fashion abattoir. A zany gastro-temple to nose-to-tail dining, Sala de Despiece jump-started Chamberí neighborhood's culinary revolution. The market-driven menu spotlights Spain's finest seasonal ingredients such as sweet Tudela artichokes, blistered green piparras, and red tuna from the Murcian coast. Expect table-side pyrotechnics, deconstructed classics, and DIY dishes, like the pancetta "Rolex" smeared with foie and truffle purée and furled into a one-bite epiphany.
Cruz Blanca de Vallecas
Commanding a waitlist longer than most of Madrid's Michelin-starred restaurants—bank on at least three months—Cruz Blanca de Vallecas is a modest tavern on the outskirts of town. It's also the improbable home of Madrid's most iconic dish: cocido madrileño, a boiled dinner of chickpeas, vegetables, and assorted sausages and meats. Chef Antonio Cosmen's rendition is downright transcendent, with creamy garbanzo beans from Arévalo_he buys the town's entire crop—smoky chorizo, and a jamón-scented broth so rich it jellifies at room temperature.
Casa Dani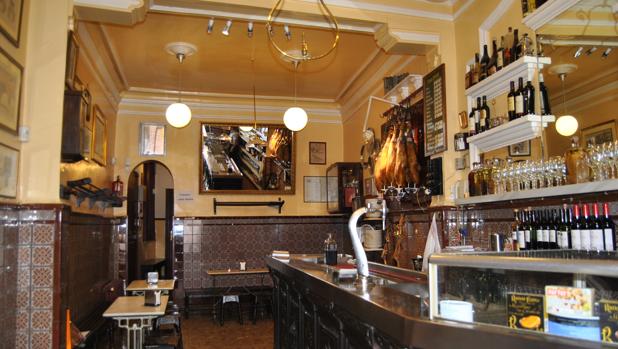 Casa Dani is the kind of no-frills neighborhood bar where napkins litter the floor, cafés con leche come in half-pint glasses, and servers holler orders through the kitchen window. In other words, it's the last place you'd expect to find the city's most exquisite tortilla española: Spanish potato omelet. The kitchen averages 400 a day, cracking 2,000 eggs and frying 1,700 pounds of potatoes in the process. One bite of the still-warm omelet—a holy trinity of oil-poached potatoes, caramelized onions, and oozy egg—and you'll understand why the dish is in such high demand.
Corral de la Morería
A legendary flamenco nightclub in the heart of Madrid's tourist-swarmed center might be the last place you'd expect to find Michelin-starred dining, but at Corral de la Morería, there's as much art on the plate as there is onstage. The menu—modern Spanish with winks of Andalusia—consists of dishes like wild sea bass draped with spring onions and Ibérico bacon and shatteringly crisp Catalan flatbread topped with garlicky late-summer vegetables.
El Paraguas
You'll feel expensive entering El Paraguas, a low-ceilinged parlor with cushy velvet chairs, ironed white linens, and fresh-cut flowers. The Asturian (northern Spanish) fine dining menu reads like a paean to minimalist cooking with seasonal, and often local, ingredients like baby artichokes, white asparagus, pheasant, and milk-fed lamb. Seafood lovers shouldn't miss the cocochas de merluza, pleasingly gelatinous hake cheeks crowned with a runny egg yolk. The hushed, well-appointed restaurant lends itself nicely to formal occasions like business dinners and family celebrations.